HAPPY YOU COULD JOIN US AND LEARN ABOUT
ALL GOD'S CHILDREN MINISTRIES
AN INTERNATIONAL TEACHING MINISTRY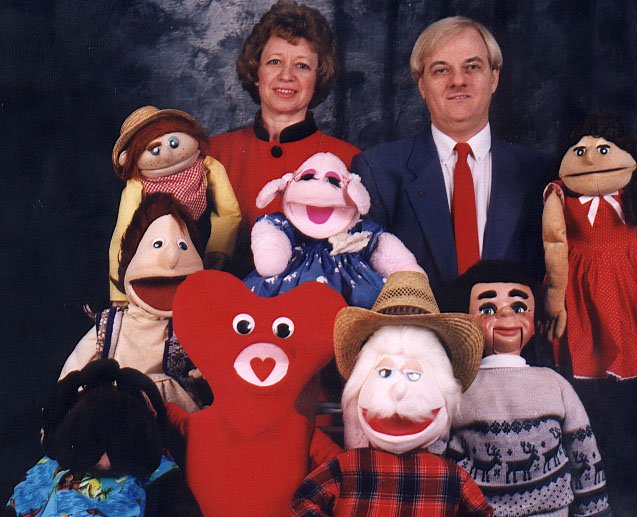 A ministry with a heart to reach children at home and internationally with the Gospel

To book Peter, Shirley and their friends for your next meeting call, write or Email
164-3044 Bloor St., W., Etobicoke, Ontario M8X 1C4
PH: 416 239 0439 <>< FAX: 416 239 7719 <>< Email: Shirley Cavanagh



All God's Children Ministries is a ministry which has a heart after God and through the hearts of Peter and Shirley Cavanagh to reach children of all ages with the Gospel message. God has given them a deep desire to reach girls and boys with the Gospel message at home in Canada and around the world as the Lord directs and leads. Peter and Rev. Shirley Cavanagh present the Gospel through various visuals. The visuals used are puppets, ventriloquism, stories, lively songs with catchy tunes, contests, team games, skits, teaching on proper attitudes, and actions, creative ways for scripture memorization, valuable lessons and truths from various Biblical stories, and encouraging children to pray for one another.

All God's Children Ministries is a ministry for all ages involving children, and youth throughout the ministry time. Peter and Shirley's desire in their hearts is that after the ministry time, that whatever the children and youth have seen, heard, or done will be well remembered long after the ministry time, so much so that what they have learned will be put into every day living in real situations.

BREAKING NEWS
The AGCM Family Will Be At The Following Locations
Come meet us at these places

| Date | Time | Place | City |
| --- | --- | --- | --- |
| September 11th | 10:00 a.m. | Brimley Baptist Church | Scarborough |
| | | | |

Also please pray that God's Glory will be shown in these events

GOALS OF THE MINISTRY
That we being God's servants have teachable hearts, so that Christ's love, power, and compassion and anointing can work through us, so that effective ministry is accomplished.
As a result of the ministry time, the lessons taught will be carried out in real life situations.
Minister the gift of salvation through faith in Christ
Help children to realize they are precious to Jesus and He sees them as vessels to share His love through evangelism. Matt. 18: 1-5, 19:13-15, John 6:5-13, Samuel 3:1-21
Teaching children in Puppet Ministry through training sessions involving basic and advanced puppet techniques
Encourage Churches to develop teams of various ages to do outreach ministry in party rooms of high rise buildings.
Come and see the puppets: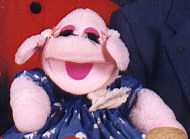 Lamique: a pink lamb with long eyelashes who is quite unique just like you, but is very shy. She loves to see the happy faces of girls and boys.
Rusty: a country boy from the USA. He has a story to tell and always asks the girls and boys what State he is from.
Mrs. Ratherbee: is not a happy lady, and she would rather be somewhere else. Kind acts help her to have a change of heart. Come and see her in action.
Grampa Tucker: who is a happy fellow who has tucked good things in his heart and has a lot to share
A country girl: who has just joined the gang and is fitting in to the group
Mr. Seltzer: who is an all round dog, who is a friendly character and likes to give a dog slurp and check out the ears.


Peter & Shirley Minister At:
Church Services, Sunday School, Open Sessions, and Children's Church
Camp meetings and Conventions
Shopping Malls
Rally Days
Missions Conferences & Evangelistic Meetings
Kids Clubs & Birthday Parties
Additional Services:
Sunday School Workshops
Family and Teacher Training Seminars
Ventriloquism & Puppet Manipulation Training Classes
The Cavanaghs

Peter and Rev. Shirley Cavanagh together are involved in ministry to children within the local Church and in neighbourhood outreach ministry over the years since 1984.

Shirley made a personal commitment to Jesus Christ in 1972, attended Central Baptist Seminary in Toronto, Ontario and graduated with a Bachelor of Religious Education in 1978. She was a summer missionary with Child Evangelism in the summer of 1978 in the Ottawa Valley area. Shirley returned to Toronto, Ontario attended People's Church where she was actively involved teaching Sunday School.

Peter made a personal commitment to Jesus as his personal Saviour in 1982. All God's Children ministry began in 1984 with Peter and Shirley being a team and serving the Lord Jesus Christ as one. Since that time Peter and Shirley have ministered in various denominations in different settings regarding children's ministry.

Throughout the ministry time over the years they have learned and gained a great of insight of how to effectively minister to children within the local Church setting, and outside the Church walls doing neighbourhood outreach ministry in the party room of high rise apartment buildings. God has given them a deep desire to reach children with the Gospel out in the community whom are not given the opportunity to attend Sunday School.

Shirley is the puppeteer and Peter is involved in setting up the equipment, various object lessons throughout the ministry time, and interaction with the puppets in regards to various puppet skits.

Puppet Training Seminars, including Ventriloquism are available to people within Church congregations who have a desire to reach children and their families out in the community with the Gospel through hands on experience.



What People Are Saying!

"Shirley has ministered at St. Bede's and St. Crispin's Anglican Church on several occasions. She has used puppets, music, and her wonderful story telling gifts to effectively communicate stories of God's love to both children and adults."
Reverend Kim Beard St. Bede's & St. Crispin's Anglican Church (Presntly at Christ s Church (Brampton)



"Thanks for sharing the message of Jesus who is The Only Way, the truth and the life. Your presentation really related to the children, was easy to understand, deep in biblical content and fun to participate in."
Paula Chan, Associate Pastor, Youth & Children Mississauga Chinese Baptist Church



"God has blessed them with a delightful ministry to children, their use of puppets, ventriloquism and illustrated Bible stories is highly professional."
Reverend Allan D. Bowen, Senior Pastor, Abundant Life Assembly



"We appreciate your love in Jesus for each child that came during the two evenings. This is demonstrated from the service, the variety and interesting ways you teach God's truth to the youth, your obedience to God's leading in giving the altar call and your concern and particular attention that you had for each one that came."
Nita Halim, Missionary in Service, North Toronto Chinese Alliance church, Richmond Hill, Ontario



"Shirley Cavanagh is a very keen, enthusiastic Christian who is able to communicate with the young and the old. She has a talent to keep the attention of young children by means of Ventriloquism and the use of Puppets. Shirley loves children and it is obvious she desires to present Jesus Christ to them so they can know Him personally."
Myrabell Weaver, Sunday School Superintendent, Willowdale Baptist Church



"Recently we at the Howard Park Pentecostal Church enjoyed the ministry of Peter and Shirley Cavanagh. Their experienced ministry proved to be an exciting time for the Children with a serious spiritual content in every presentation. Although they were called upon to have lengthy services during our Conference Sessions they excelled in sustaining the interest of all that attended. The parents who assisted Peter and Shirley gave good reports and felt that the children benefited greatly from All God's Children Ministries."
Rev. Daniel Ippolito, Toronto, Ontario



"Your puppets, stories, and songs were a delight to the children (and adults) and left a lasting impression which, we trust, will bring eternal benefit. Those who planned the conference were pleased with the results. We want you to realize that the Lord used you in a significant role in what was accomplished."
John Day, Pastor Sherkston Brethern In Christ Church, Sherkston, Ontario



"It is with great pleasure that I recommend Shirley and Peter Cavanagh with their All God's Children s Inc. outreach ministry. Shirley and Peter have developed a very unique children's ministry that is exceptionally successful in reaching children and their families with the Gospel of Jesus Christ. By using puppets and other materials they have developed a very effective evangelistic approach by which they are able to introduce children to Jesus Christ as their Saviour and Lord. They have also developed a very effective program by which they are able to train church workers to reach out to children in their churches and neighbourhoods.

It is without hesitation that I would suggest to pastors and churches that they invite All God's Children Inc. to minister to their children and help to develop an effective children's ministry for their churches.
Rev. Gordon Williams, The Gordon Williams Evangelistic Association Inc., Orangeville, Ontario
| | |
| --- | --- |
| | |
| Shirley with "Mrs. Ratherbee" puppet | Praise session in the party room of large apartment complex |
| | |
| Shirley in action with Mr. Seltzer puppet and "Spaaz" the christian clown; in background. | Sharing "love of Jesus" in neighbourhood outreach. It took place in the driveway of christian family. |
| | |
| Children of all ages love to take part in object lessons. | Young chap helping out during program. Later he was open to knowing more about Jesus. |
All God's Children Ministries, Inc.
Rev. Shirley Cavanagh
taxable receipts are provided for any donations
For any questions please contact Peter Cavanagh: peter@agcm.org